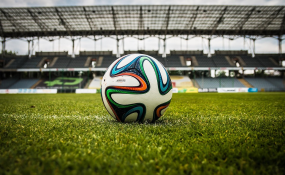 Photo: Pixabay
By Peter Kamasa
Inspectors of the world soccer governing body, FIFA, will make their first visit to Rwanda from February 21-24, 2018 to inspect Stadiums and other facilities for the country's 2019 U-17 World Cup bid.
The FIFA officials alongside the delegation from Rwanda Football Federation (FERWAFA) and the Ministry of Sports will inspect the proposed stadiums, training facilities, hotels and hospitals in Kigali City, Bugesera District, Huye District, Muhanga District, Musanze District and Rubavu District respectively.
The FIFA delegation confirmed for the three-day visit will be composed of Oliver Vogt and Christian Schmölzer (FIFA Tournament & Events, Youth Tournaments).
The visit will assess both the existing stadiums as well as other stadiums which are planned to be constructed.
FERWAFA president Vincent Nzamwita said, "The primary goal for the inspection at this stage is to enable FIFA receive first-hand information on Rwanda readiness to host this youth tournament,"
He added "from assessing the existing infrastructure to proposed stadiums which will be constructed among others, hotels and hospitals among others. This will enable the FIFA inspection team to report back to the FIFA Council before they make a final decision on the definitive host of the 2019 FIFA U-17 World Cup,"
Nzamwita is positive that Rwanda will win the bid to host the tournament of such a stature saying there is government support in ensuring that all the needed requirements will be availed on time.
The inspectors will visit medical, proposed stadiums, training facilities, hotels and hospitals in Kigali and Musanze on February 21 then head to Rubavu, Huye and Muhanga Districts on February 22 before concluding with a visit to Bugesera District on February 23.
At the end of the inspection tour, the delegation will submit a report to assist FIFA's Council to select a host for the 2019 FIFA U-17 World Cup tournament, which will be announced by FIFA before the end of this year's first quarter, most probably in April in Zurich.
In November last year, Rwanda submitted her definitive bid bid book to host the memorable 2019 FIFA U-17 World Cup.
Rwandan officials believe that hosting such a high profile FIFA World Cup would raise not only the country's profile but CECAFA region and CAF as a whole.
Two years ago, Rwanda hosted a successful Africa Nations Championship (CHAN), which saw an influx of football fans to the country from across the African continent.
The 2017 FIFA U-17 World Cup will be hosted in India October, and a total of 52 games will be played.
The FIFA U-17 World Cup is one of FIFA's oldest competitions, dating back to 1985 and since its inception, the competition has grown in size and stature, adding luster to the game by producing great attacking football and unveiling exciting players for the future.
Rwanda has gained massive experience from hosting different continental championships including CHAN 2016, Africa U19 Youth Championships in 2009 as well as the 2011 Africa Under-17 Championships.