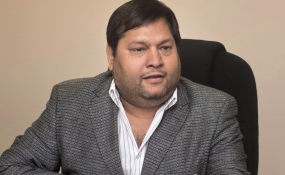 Photo: Wikipedia
The Ministry of Police, headed by Fikile Mbalula, on Sunday discouraged people from offering rewards for the arrest of Ajay Gupta.
Police ministry spokesperson Vuyo Mhaga said: "We are discouraging people to offer rewards."
He said the police did not want independent reward offers to be made as "it might endanger the suspect, the lookalike and general public".
Ajay Gupta, who is considered a fugitive, is wanted for charges relating to allegations of fraud and corruption over the Estina Farm Community Project in Vrede, in the Free State.
Forensic consultant Paul O'Sullivan's organisation, Forensics for Justice, on Thursday said it was offering a R100 000 reward "for any person that gives information that leads to the arrest of Ajay Gupta within the next 48 hours", as well as additional rewards for the arrest of Ajay's brothers Atul and Rajesh, also known as Tony, as well as Duduzane Zuma, and a bonus reward for the capture of all four.
Following this, CEO of the Sygnia Group Magda Wierzycka said in a series of tweets that she would match the various rewards offered by O'Sullivan, taking the total reward up to R1m. She later offered extra rewards.
Over the weekend, Mbalula directed police to ensure that none of those among the wanted managed to smuggle themselves across borders.
"He can run but he cannot hide," Mbalula said.
Source: News24