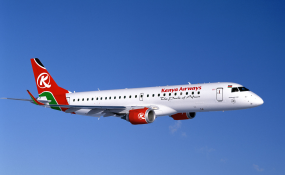 Photo: Kenyan airways
Kenya's national carrier, Kenya Airways, has announced plans to fly four times a week to Mauritius starting June, giving customers more options to travel to the Indian Ocean archipelago.
The carrier said the new flight will also set it up to take advantage of traffic between the United States and Mauritius, a popular destination for Western tourists, once it launches direct flights to New York in October.
"The Nairobi-Mauritius route will have a great impact on Kenya Airways upcoming direct non-stop flights to New York by reinforcing its attractiveness to American premium leisure travellers," the airline said in a statement on Feb 06.
The carrier already has a pre-existing code sharing agreement with Air Mauritius, which flies between Port Louis and Nairobi thrice a week.