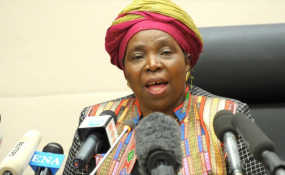 Photo: laprosperiteonline
ANC MP Nkosazana Dlamini-Zuma on Sunday refuted reports that she is tired and planning on quitting her parliamentary role.
"Dr Dlamini Zuma is full of energy and is neither resigning nor fatigued," said a statement released on her behalf by Mandown Media.
"Dr Dlamini Zuma wishes to emphasise that she remains at the service of South Africa as a member of the South African parliament, and no fake news will dissuade her from her duties," continued the statement.
Describing Dlamini-Zuma as a "loyal member" of the ANC on a branch level and as a NEC and NWC member, "no mischievous attempts of wedge driving will persuade her out of the movement she has dedicated all her life to."
On Sunday, an article published on the Times Live website alleges that Dlamini-Zuma told President Cyril Ramaphosa that she wanted to leave Parliament as she was tired.
Source: News24