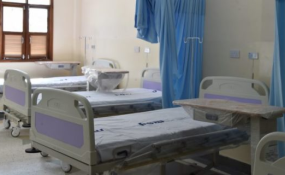 Photo: Daily News
AMSONS Group of Companies has promised to build two more new modern women's ward at Mwananyamala and Temeke hospitals, a move aimed at complementing the government efforts in social development especially in health sector.
The Amsons Group Director, Edha Nahdi, made the commitment after official launching of a new modern women's ward that was built at Amana Hospital by Amsons Group at a cost of 1.2bn/-. He said after the completion of the ward at Amana hospital their focus was on building another ward of the same standard at Mwananyamala and Temeke hospitals to help expectant mothers deliver in healthy conditions.
He said Amsons Group had decided to build new modern wards to three regional hospitals in Dar es Salaam as a Cooperate Social Responsibility (CSR) of his companies to support government efforts and President John Magufuli move to bring positive changes in the country.
"Amsons Group, through its companies Camel Oil, Camel Cement, Camel Flour, Camel Concrete, CAM Gas and others would like to support government efforts in health sector especially focusing on expectant mothers who pass through hardship during delivery time," he stressed.
Mr Nahdi explained that in December 2015, when they were doing regular cleaning at Amana Hospital they were shocked by the situation of expectant mothers' ward at the hospital and from there they took interest to build the new one. "There is a study done between 2015/16 shows that 556 expectant mothers die out of 100,000 and one of the reasons was lack of good healthcare for them and lack of health facilities, so we decided to intervene and we feel very proud to help fellow Tanzanians " he further explained.
The director said society must be in a forefront to help women deliver in a good condition by pooling together their efforts to build such good and modern wards all over the country and make expectant mothers deliver in comfortable situation. "We want expectant mothers to be happy during delivery so such modern wards must be available in many hospitals all over the country.
We stakeholders from private sector must work hand in hand with the government to make sure this dream comes true... .We must ensure that expectant mothers are happy and comfortable during their time to deliver ," emphasised Mr Nahdi. Expectant mothers and others with their newborns who were found in the new ward expressed their appreciation to the government efforts and Amsons Group for the new facility that makes them comfortable compared to the past situation.
"I cannot tell how happy I am, we used to sleep two or three on one bed in the old ward but today you can see every woman on her bed, this is a miracle to us, we thank the government and the sponsor for this charity," said Upendo Shaki