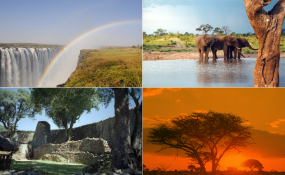 Photo: allafrica.com
By Kylie Kiunguyu
Zimbabwe's government has announced that it has reviewed the country's visa requirements to elevate 29 Category C countries to category B level which allows visas on arrival. The new travel regime allows visas on arrival for SADC members and several international countries.
Zimbabwe is seeking to improve travel and unlock its tourism potential by providing visas on arrival for all SADC members; which is a first in the region; and several international countries including Mexico, Ethiopia, Romania and Armenia that now fall in Category B.
The development was announced during the National Tourism Strategy workshop by Immigration principal director, Clement Masango.
The country has three categories: Category C countries are required to apply for their visas prior to travelling, Category B countries can be issued with visas on arrival and Category A countries that do not require visas at all. Moving SADC members to Category B status comes after the African Union (AU) launched the Single African Air Transport Market (SAATM), a step in the implementation of continent-wide visa free regimes including issuance of visas at ports of entry for all Africans.
The AU Agenda 2063 calls for the abolishment of visa requirements for all African citizens in all African countries by 2018.
The country's Vice President, Rtd. Gen. Constantino Chiwenga recently said government seeks to move away from the trend in most African countries where almost two-thirds of the world's population must obtain visas before entry.
"Zimbabwe should take advantage of the international community's confidence in the new administration to market the country as a preferred destination for tourists and investors, " Chiwenga said.
Analyzing the trends in other African countries is a sentiment echoed by Tourism Industry minister Prisca Mupfumira who said that the ministry will continue to assess Zimbabwe's accessibility in comparison with other destinations. "... .how do we compare as far as this visa regime is concerned so together with my colleagues we are going to look at all regimes to see how do we compare."