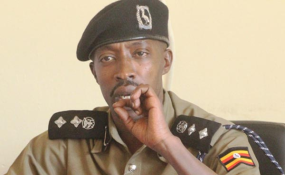 Photo: Daily Monitor
By Joseph Kato
Kampala — Police on Monday said foreign substances were found in the bodies of two Europeans found dead at two Kampala hotels nearly a fortnight ago.
Police spokesperson, Emilian Kayima, said a toxicology report has indicated that the Swedish and Finnish nationals whose bodies were discovered on February 6 and 8 at Sheraton and Pearl of Africa hotels, respectively, died of foreign chemicals.
Mr Kayima said police has since started investigating a murder case as opposed to a natural death that was suspected before a toxicology examination was conducted.
"We are now investigating murder because it has been scientifically proved that they died of foreign substances. These substances were found in their bodies," Mr Kayima said while addressing journalists at Kampala Central Police Station (CPS) on Monday.
Tersvouri Toomajuha Petteri, a 42-year-old Finish, died at Pearl of Africa Hotel on February 8 whereas Alex Sebastian, a 41-year-old Swede, died at Sheraton Hotel on February 6.
Asked to explain what kind of substances had been found in the deceased's bodies, Mr Kayima said he was not at liberty to divulge details since it could jeopardize the ongoing investigations.
"I am not at liberty to give you details because it could affect ongoing investigations. But what I can confirm is that the toxicology report indicates foreign substances led to their death," Mr Kayima said.
Police dismissed reports that Federal Bureau of Investigations (FBI) had been contacted to help in investigations. He said Uganda police working with its sister agencies had the capacity to probe the case to conclusion.
Mr Kayima said police had written to Internal Security Organisation (ISO) to hand over the five suspects they arrested in connection to the deaths because they were stuck with the files.
"This case is also being investigated by ISO and they are holding the suspects. We have written to ISO requesting for the suspects because we need to interrogate them for the progress of our files," Mr Kayima said.
Efforts to get a comment from ISO on whether they would comply with police request were futile as ISO director, Col Bagyenda Kaka, did not answer our calls. Mr Kayima was cagey on responding to the question of a waitress who was reportedly rearrested after she had been released by CPS police on bond.
Reports claimed that a waitress at Pearl of Africa hotel identified only as Beatrice was intercepted by ISO at the airport fleeing hours after she had been released on bond. However, Mr Kayima said he was not aware of such a development.