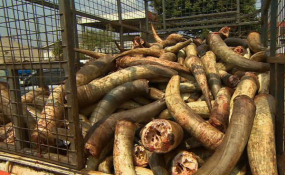 Photo: The Monitor
By Stephen Wandera
Over one ton of cattle horns suspected to be ivory destined to China were impounded by Uganda Revenue Authority officials early this month.
According to the spokesperson of Uganda Wildlife Authority (UWA), Mr Simplicious Gessa, the animal product in transit was intercepted at Malaba, the Uganda-Kenya boarder post.
"Early this month, URA officials impounded a forty feet container with 600 sacks of cattle horns weighing 1280 kilograms suspected to be ivory. Our staff (UWA) were sent to verify only to identify them as the long Ankole cattle horns," he said.
"Our canine unit based at Entebbe International Airport spent over two and half hours verifying each and every piece of horns before releasing the consignment belonging to Skyfat Tannery Company Limited," Mr Gessa added.
He revealed this on Monday February 19, 2018, at the opening day of a training workshop to increase the expertise of law enforcement officers to tackle wildlife trafficking, in Kampala.
He further explained that the training workshop hosted by UWA in partnership with the International Fund for Animal Welfare (IFAW) aims at training Ugandan officials to easily identify such illicit wildlife products among other skills.
Dr Andrew G. Seguya, the Executive Director, UWA, stated, "This training is to equip government officials with the necessary skills to detect, interdict and stop illegal wildlife crime at Uganda's entry and exit border points."
He added, "Illegal wildlife trade has for a long time been a major challenge in protected area management and we recognize efforts to bring this vice to an end."
"We have noticed an increase in illegal wildlife trade over the past few years. The rate of ivory trafficking through Uganda has increased and we believe Uganda is being used as a transit for this ivory in illegal trade. This training therefore comes as a good opportunity as we join efforts to make advancements in protection of all our wildlife species," Dr Seguya said.
During the training, interactive sessions will teach practical, hands-on skills used in the identification and correct handling of species commonly trafficked in the East African region, a transit and source hub in the illegal ivory supply trade chain.
"Over the years, we at IFAW have learned that we cannot combat wildlife trafficking and the ivory trade in particular, on our own. Effectively tackling the mounting challenges posed by illegal wildlife trade requires a coordinated, transnational, multi-agency approach and this is what makes training workshops like these so essential and critical," stated Sonja Van Tichelen, Vice President - International Operations IFAW.
"The scale of animal poaching and trafficking of high value wildlife species is on the rise and in need of an urgent response. Wildlife trafficking which involves amongst others elephant ivory, rhino horn, reptile skins, pangolins and leopard skins destroys biodiversity, damages local and national economies, damages human health and well-being, contributes to corruption and violence and causes immense cruelty and suffering to animals," reads part of the press statement issued after the opening.
It is one of the world's most lucrative criminal activities - valued at billions of US dollars annually and ranks one of the top most lucrative transnational organized crimes, behind drug trafficking, money laundering and counterfeiting.
It is estimated by wildlife officials that the number of elephants in Uganda has diminished to about 5,600 from 1.3 million three decades ago mainly due to poaching for ivory.
Higher demand for ivory in particularly Asia has made its trafficking lucrative and added a new layer of danger to frontline game warders protecting the animals.
According to an IFAW report, the Global Security Implications of the Illegal Wildlife Trade, ivory smuggling and the wildlife trade has been linked to other forms of organized crime including terrorism, illegal arms and drug trafficking.