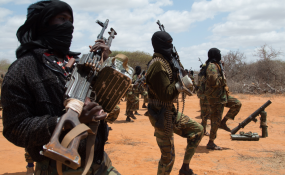 Photo: Hamza Mohamed
By Charles Lwanga and Winnie Atieno
Some 40 Al-Shabaab returnees in Kilifi County have been taken to various rehabilitation centres in Mombasa, the government says.
Kilifi County Commissioner Magu Mutindika said: "Most of the returnees who surrendered themselves to the government are youth from Malindi, Mambrui, Kilifi Town and Mtwapa."
AMNESTY
Speaking to the Nation on the phone, he said: "We do not intend to prosecute them since they have come to us for help."
Mr Mutindika said most of the returnees have combat trainings. The young men and women were lured into the terror group in Somalia with the promise of a good life, he said.
The county commissioner said the government had offered an amnesty to Shabaab returnees who surrender to the police or other government officials for counselling. They would then be reintegrated into society.