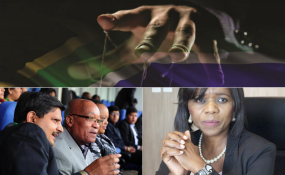 Photo: allafrica.com
By Jessica Bezuidenhout
The Gupta empire has launched an audacious fightback against the National Prosecuting Authority - this as big brother Ajay finds himself confined to life in the shadows as an official fugitive from justice.

In the quest to hang onto their alleged ill-gotten gains, the Guptas have taken the fight to the National Prosecuting Authority - and in the process, they revealed that the Bank of Baroda has also brought an urgent application against the state.
The Gupta companies are daring the prosecuting authority to produce matching bank statements as proof that some of the R220-million allegedly misappropriated from a Free State government Estina diary project in fact landed up with them.
Six of the Gupta empire's most important companies are challenging a preservation order obtained by the the Asset Forfeiture Unit of the National Prosecuting Authority last month - this as big brother Ajay is on the run and uncertainty prevails over exactly who the Hawks are still hunting for.
Daily Maverick has confirmed that Aerohaven Trading, Oakbay Investments, Westdawn Investments, Islandsite Investments 180, Annex Distribution and Linkway Trading on 8 February filed a joint legal challenge of the preservation order granted by the High...