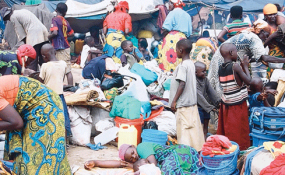 Photo: The Citizen Tanzania
The United Nations High Commission for Refugees (UNHCR) estimates that a total of $270 million (about Sh600 billion) is required in response to the needs of displaced Burundian and Congolese refugees living in various camps in Tanzania.
According to the supplementary appeal of refugees response plan for January-December 2018 published recently by UNHCR, the amount is required for responding to the needs of 330,000 refugees from both DR Congo and Burundi.
Burundian refugees are expected to get the lion's share of the required amount as the UNHCR report shows that Sh234 million will be spent on them, while the remaining $34.4 million will be set aside for Congolese refugees. The amount will be spent on health and nutrition, food, education, security, energy, shelter, legal assistances and protection. Shelter, protection and food account for the bulk of the required amount.
The commission says Tanzania has the main responsibility to ensure access to the territory and UNHCR will closely cooperate with the authorities and provide them with full support to ensure that these key principles are respected. Currently, Tanzania is hosting 340,000 refugees from both countries of which data shows that 258,000 are from Burundi while 82,000 were from DRC.
The report shows that Tanzania is expected to receive another 6,000 new arrivals of Burundian refugees, while 54,000 are anticipated to return to home country this year.
The Burundian refugee population in Tanzania id projected to be 220,000 by December 31, 2018.
There are also some 82,000 refugees and asylum seekers from the Democratic Republic of the Congo living in Nyarugusu camp, one of the three refugee camps in Kigoma Region.
UNHCR says Nyarugusu camp already hosts over 65,000 Congolese refugees and continues to receive newly arriving Congolese.
The camp has reached triple its holding capacity, with a population of 149,376 refugees and asylum seekers.
"Given the insecurity in the DRC, UNHCR expects an additional 25,000 refugees in the United Republic of Tanzania by the end 2018, reaching a total refugee population of 107,000 people of concern," UNHCR says.