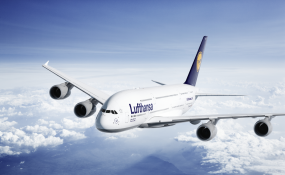 Photo: Lufthansa airline
By Oladeinde Olawoyin
Passengers on a Frankfurt-bound flight on Sunday were thrown into despair when the airplane suddenly came down midair from 35,000 feet to 5,000 feet.
PREMIUM TIMES gathered that the LH595 flight, operated by Lufthansa airline, left Nigeria's capital Abuja for Frankfurt, Germany, at about 11.15 pm.
Trouble started shortly after takeoff when the plane suddenly descended as though it was about to crash, throwing the entire passengers into despair.
A passenger who spoke to PREMIUM TIMES and craved anonymity said the aircraft crew, however, declined to make a stop at a nearby airport in spite of pleas from passengers.
The passenger explained that when the incident occurred about a few minutes past one hour into the flight, many passengers fell down, others were injured and many had some of their valuables fall from where they had them placed.
The passenger recounted that due to the fear, they could not be served food and drinks neither could the crew members attend to other welfare concerns.
The airline, he said, claimed the incident was due to a combination of bad weather and faulty engine, adding that it was not caused by human error.
Upon arrival in Germany, there were ambulances and fire fighters waiting to attend to the aircraft and its passengers who, according to our source, had become "almost dead".
PREMIUM TIMES' efforts to speak to the management of the airline proved abortive Tuesday morning.
Several calls placed to the communication desk were left unattended to while no reply was supposed to an email sent to the airline.