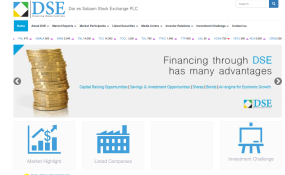 Photo: Dar es Salaam Stock Exchange
DAR ES SALAAM Stock Exchange (DSE) turnover has gone up 20 per cent thanks to increased activities at three counters in the last seven days.
The bourse posted a turnover of 6.41bn/- compared to 5.34bn/- last week while Swissport, CRDB and TBL emerging the top trading equities. According to Zan Securities Limited, Swissport dominated the week at 41 per cent, CRDB at 33 per cent and TBL at 21 per cent of the market share.
The top gainer, Swissport share appreciated by 1.14 per cent to 3,540/- per unit and self-listed DSE appreciated by 1.27 per cent to 1,600/- per share. The two equities share price gain pushed up total market capitalisation by 0.73 per cent, closing the week at 22.66tri/- while domestic market capitalisation rose by 0.02 per cent at 10.15tri/-.
Comparatively, key benchmark indices were in the green territory with the Tanzania Share Index (TSI) capping at 3,869.62 points, 0.02 per cent higher than the preceding week. The All Share Index (DSEI) closed at 2,353.11 points, 0.73 per cent higher than last week.
Similarly, the three sector indices were in the green territory with Industrial and Allied Index closed at 5,285.73 points, same as last week. Banks, Finance and Investment Index went up by 0.02 per cent, closing at 2,608.73 points.
Commercial Services Sector Index closed at 2,463.93 points, up by 0.07 per cent from the preceding week. Looking forward, Zan said "investors begin purchasing the best quality stocks that have been beaten down".