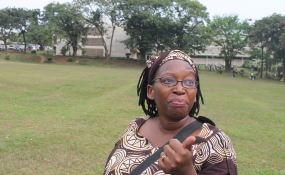 Photo: The Nation
By Godfrey Ssali
Kampala — The cyber harassment case in which Makerere University Senior Researcher Dr.Stella Nyanzi, is accused of offensive communication against the person of the President has been adjourned to March 07, 2018.
Buganda Road court Chief Magistrate James Eremye Mawanda will then make a ruling on whether to proceed with Nyanzi's trial, or halt it to allow her persue the petition she filed in the Constitutional court challenging the State's move to first ascertain her mental status.
Last year, Nyanzi through her lawyer Peter Walubiri filed an application seeking orders compelling the DPP to commence her criminal trial, saying she is currently out of employment having been suspended by Makerere University.
Resident State Attorney Jonathan Muwaganya on Tuesday insisted that the trial must not commence until the Constitutional Court has pronounced itself on Nyanzi's petition, that has a direct bearing on the criminal trial.
Nyanzi is said to have written a post on her facebook page referring to President Museveni as a "pair of buttocks".