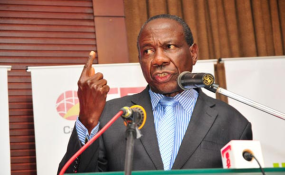 Photo: Daily Monitor
By Mercy Ahukana & Triumph D. Laloyo
Minister of Finance Matia Kasaija on Tuesday afternoon described media reports that government is borrowing money to pay staff salaries as an exaggeration.
The minister told journalists at the government media centre in Kampala that: "The purpose of this borrowing is to mitigate the revenue shortfalls being experienced this year."
He said the money is required to not only pay salaries, but also cover payments to the elderly under the Social Assistance Grants Empowerment (SAGE) programme, pensions and gratuity, among others.
Reminding his audience that Uganda's budget is funded from revenue collected, Kasaija observed that Uganda Revenue Authority has not collected enough to fully fund public expenditures.
He reported that in the first half of this financial year, there was a revenue shortfall of Shs 324 billion. There was low collection of Value Added Tax amounting to Shs 139 billion; international trade taxes, Shs 53 billion, and income and excise taxes at Shs 144.85 billion.
He said that because of this shortfall, Shs 736 billion will be borrowed from domestic sources. Kasaija said that only Shs 48 billion will be taken for salaries and wages from that total sum.
The minister attributed the shortfall in revenue to the restructuring of the economy. He explained that the country is exporting more to countries like Kenya and China than it is importing, and that exports are not taxed as much as imports.
Government expenses on travel are also quite costly, he said.
The minister explained that the approved national budget, excluding debt and external financing, amounts to Shs 12.59 trillion. Total releases to-date: for quarter one to quarter three is Shs 9.94trillion which is 79%, of which development expenditure for especially infrastructure projects accounts for 73%, he said.
He observed that in spite its short comings, the budget for financial year 2017/2018 is on the right track, and it will continue to meet its obligations.
"... there has been tremendous progress in providing funds for the following areas: provision of Shs 300bn towards clearing of domestic arrears in quarter one and two as announced in my budget speech to support the private sector; ensuring contractual obligations of Shs 1.16 trillion under UNRA are met by the end of Q3; seasonal requirements for NAADs (92%) and coffee development (82%) to provide planting materials to the public; development funds for local governments to enable timely implementations of projects and front-loading expenditures for drugs (Shs 258bn)," Kasaija said.