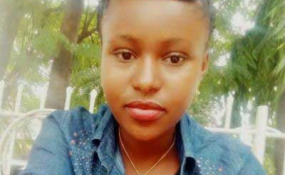 Photo: The Citizen Tanzania
By Josephine Christopher
Dar es Salaam — The late Akwilina Akwiline's family needs Sh80 million for her funeral expenses, The Citizen has learnt.
The 22-year-old student was killed by police who fired to break up a march by Chadema. Akwilina was on a commuter bus.
Her killing on Friday has plunged the nation into sorrow.
Monday's autopsy report showed that then-National Institute of Transport (NIT) student died of a gunshot wound in the head.
Her brother-in-law, Mr Festo Kavishe, said the family met in Dar es Salaam yesterday and settled on Sh80 million as the money required to cater for funeral expenses.
"The amount includes all the expenses for our stay in Dar es Salaam, the casket, transport to and from Akwilina's home in Rombo in Kilimanjaro. After burial, we will remain there for one day before returning to Dar es Salaam... .This is just a proposed budget and may rise or fall, depending on a number of factors," he said.
The family, he said, has submitted the budget to the government.
The government has said it will deliberate on the budget and come back to the family for final approval. "So far, we have agreed with the family that we will pay last respects on Thursday at NIT grounds before the body is transported to Kilimanjaro for burial. As for the budget, we will discuss and see what the government will contribute," the permanent secretary in the Ministry of Education, Science and Technology, Dr Leonard Akwilapo, said.
Akwilina's uncle, Mr Valentino Akwilini last respects would be paid at 13:00 on Thursday.
"The body will be taken from Muhimbili National Hospital at 09:00 and arrive at our Mbezi Louis home before proceeding to the public service that will be conducted at NIT grounds.
Akwilina will be buried in Rombo.