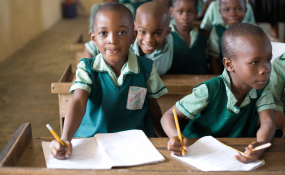 Photo: Premium Times
By From Daily News Reporter in Dodoma
WORLD Vision Tanzania is intending to spend at least 1.32trn/- (about 585.7 million US dollars) to improve education, health and child protection in Dodoma in the next five years.
The project christened "Afya- AIM Health Plus" implemented through 2021 also targets to empower wananchi economically, by taking part in small and medium scale entrepreneurial projects.
Speaking in Bahi, yesterday, during a campaign to end child pregnancies and forced marriages in the district, Zachariah Shigukulu, Area Programme Manager for World Vision Tanzania said the project will benefit Mundemu, Zanka, Msisi and Babayu wards in Dodoma's Bahi District. "We have donated medical appliances worth over 97.8m/- to the health centre in the area.
We are facilitating at least 700 children to acquire birth certificates," he said. Bahi is one of the eight districts in Dodoma with highest cases of child pregnancies and forced marriages, and the Manager said the target is to ensure all children, especially the girl child in school and outside school benefits.
"There are many more children who are not in school and they become victims of teenage pregnancies ... we're here to help the government and communities bring an end to the problem," he said.
A district education officer, Mr Hyasini Hyera, admitted that there has been a stead fall of cases reported but said the "problem is still rampant." Boniface Kinyunyi, Bahi Police Gender Desk Officer explained during the campaign that the police are being turned catalyst of continued violence in the district.
He said parents of the victims have been using the police to threaten perpetrators of the pregnancy to comply with their demands and "when the payment is settled, the parents disappear and tend to destroy evidence," he said.
Ms Jane Chisamilo, Mundemu Ward Executive Officer said that men should be blamed of moral decay and unending child pregnancies and forced marriages. She added that more parents are increasingly losing the battle by failing to fulfill their parental duties in the households. "Men don't have time to educate or follow-up school performance of their children and at the end turn to be the first people looking for men to marry their daughters," she claimed.
The campaign which was launched in Bahi by the District Commissioner, Ms Elizabeth Kitundu, is seeking to wipeout child pregnancies that had been proved to have devastating consequences for their health, education and wellbeing.