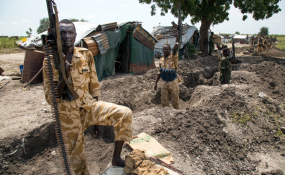 Photo: ​Albert González Farran
By Valentine Obara and Kennedy Kimanthi
The Kenyan government has issued a travel advisory to its citizens living in South Sudan.
In a rare statement released Wednesday, the Ministry of Foreign Affairs and International Trade specified that the advisory applies to Kenyans living in parts of the Greater Upper Nile region, particularly the states of Bieh, Latjoor, Akobo, Jonglei, Northern Liech and parts of Maiwut, Eastern Nile, Boma and Yei River.
BATTLE FIELD
The oil rich region has been a battle field for several years between government forces and rebels allied to the Sudan People's Liberation Army-In Opposition (SPLA-IO).
"The Ministry of Foreign Affairs and International Trade of the Republic of Kenya wishes to advise all Kenyan nationals living or travelling to South Sudan to move away from and avoid traveling to areas where armed conflicts and inter-ethnic violence have occurred within the last six months," read the statement.
It further urged Kenyans living in other parts of the war-torn country to exercise extreme caution.