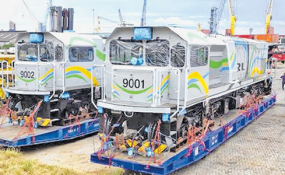 Photo: The Citizen Tanzania
By Rosemary Mirondo
Dar es Salaam — The government has said it is going ahead with the plan to purchase 11 locomotives abandoned at the Dar es Salaam Port since mid-last year even as the person who ordered them remains a mystery.
Transport Permanent Secretary Leonard Chamuriho told The Citizen that they had identified the company that shipped the consignment -- a US-based company known as Progress Rail Ltd.
There have been many unanswered questions surrounding the importation of the locomotives, including lack of knowledge on who had ordered them into the country. The controversy started after President John Magufuli blamed the Tanzania Ports Authority (TPA) for poor coordination that led to clearing of the consignment at the port despite lack of appropriate documents.
He then ordered the Ministry of Works, Transport and Communications to investigate the matter and take appropriate action. However, Dr Chamuriho made it clear yesterday that the government was now aware about who actually shipped the train engines and where the consignment came from.
The only remaining puzzle, he said, was who ordered the train engines.
"The government wanted to find out who had imported the products but since we know the source of the locomotives and who actually shipped them into the country, we are negotiating with him," he said.
Dr Chamuriho declined to mention whether they had agreed on a price because negotiations were still going on and therefore would be too soon to make public.
However, recently, Transport minister Makame Mbarawa was quoted as saying that the locomotives would cost $2.4 million each instead of $3.2 million demanded earlier.
Earlier reports had it that the consignment belonged to Tanzania Railways Limited (TRL) but the firm dismissed the claims that it had ordered for their purchase.
Late last year, the government directed the TRL and the Ports Authority to prepare a report to explain the circumstances that led to the abandoning of the locomotives at the Dar es Salaam Port.
Questions on who imported the locomotives and why he abandoned them at the port remain unanswered.