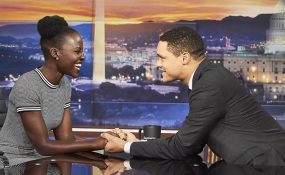 Photo: Lupita Nyong'o/Instagram
By Hilary Kimuyu
Actress Lupita Nyong'o on Thursday announced that she will be staring and producing in the adaptation of The Daily Show host Trevor Noah's memoir Born a Crime: Stories from a South African Childhood.
The movie is an adaptation of Noah's bestselling autobiography which the author will also be producing through his Ark Angel Productions.
The Oscar Award winner took to her Instagram to deliver the news to her fans.
When I read @TrevorNoah's "Born A Crime," I could not put the book down. Excited to announce that I will be starring in and producing its feature film adaptation! #BornACrime
A post shared by Lupita Nyong'o (@lupitanyongo) on Feb 21, 2018 at 2:31pm PST
Lupita will be potraying Noah's mother, the central figure in the book that has been described as not just the comedian's account of growing up under apartheid rule in South Africa but also a love letter to his mother.
Noah was conceived from a white father and a black mother under a regime in which mixed relations were punishable by imprisonment.
Key in the book is Noah's time with his mother, who at first concealed her son to keep him safe from the threat of being taken by government forces, to later giving everything to him in order to break a cycle of poverty and violence.
Born a Crime was released in 2016 and became a best-seller.