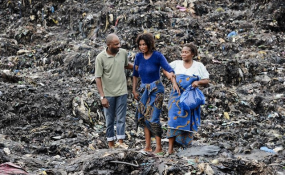 Photo: Emildo Sambo/Verdade
Maputo — The opposition Mozambique Democratic Movement (MDM), on Wednesday called on the Mayor of Maputo, David Simango, to resign in the wake of the catastrophic collapse of part of the municipal rubbish dump in the neighbourhood of Hulene on Monday morning, in which 18 people lost their lives.
Speaking at a press conference, Augusto Mbazo, the deputy head of the MDM group in the Maputo Municipal Assembly, declared that Simango "no longer has the moral right to remain mayor and should resign".
He pointed out that one of Simango's main promises when he campaigned for re-election in 2013 was that he would close down the Hulene dump. Since then the MDM, which is the only opposition force in the Municipal Assembly, has been insisting that the Municipal Council must carry out Simango's election pledge.
Mbazo said the dump is operating way above its capacity. It is now the height of a four or five storey apartment block, towering above the surrounding houses. "It should have been shut down 15 years ago", he said.
He accused the Municipal Council of "criminal negligence", and of "arrogance, because it has remained indifferent to the appeals from civil society for the closure of the rubbish dump".
The excuse for keeping the Hulene dump in operation is that the land at Matlemele, in the neighbouring city of Matola, where a new and modern landfill should be installed, has been occupied by squatters, and negotiations are under way for them to leave.
"It makes no sense that such a negotiation should take over three years", said Mbazo. Furthermore, the Council's claims that progress was being made in building the landfill were untrue. "Our visits to Matlemele show that nothing has been done", he declared.
Mbazo said the MDM is now demanding the immediate creation of an alternative site for disposing of the city's garbage and the closure of the Hulene dump. All families living within a radius of 200 metres from the dump should be resettled "to avoid a repeat of the tragedy".
He noted that the Council had demolished houses built in some areas of the city unfit for habitation, but had not taken the same vigorous action towards houses built in the shadow of the Hulene dump.
The MDM is calling for an extraordinary session of the Municipal Assembly to debate the Hulene tragedy. Mbazo said the party will also propose the creation of a commission of inquiry "to ascertain all the factors that will lead to holding the Municipal Council criminally and administratively responsible for what has happened".