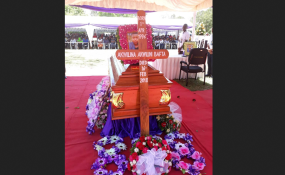 Photo: Daily News
By Abella Msikula
Top government officials and hundreds of people have arrived at the National Institute of Transport (NIT) in Mabibo, Dar es Salaam to pay their last respects to Akwilina Akwilini, who was shot dead at Mkwajuni, last week.
Our corresponded, Abella Msikula, reports that most of the residents, surrounding the institute are among the multitudes of people who are attending the event.
Minister of Education, Professor Joyce Ndalichako, Home Affairs Deputy Minister, Eng Hamad Massauni and Dar es Salaam Special Zone Police Commander, Lazaro Mambosasa are among public officials who are attending the event.
The security has been tightened around the institute's premises.