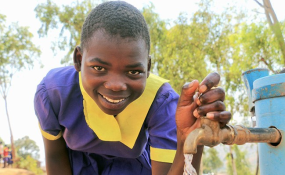 Photo: Eldson Chagara/Unicef Malawi
By Sylvester Kumwenda
Lilongwe — Unicef Malawi has embarked on a campaign of distributing 40 000 liters of safe water on a daily basis to Mitengo community in Lilongwe, after the area recorded 10 cholera cases and ended the life of a 10 year old child.
At Mitengo community, almost all members rely on wells and Lilongwe River as a source of water.
UNICEF Malawi country representative, Johannes Wedening told journalists on a media trip to appreciate the water distribution process and the water sources used by the community that have proved dangerous as their waters are not safe for consumption.
"The cholera epidemic in Lilongwe city is a serious public health hazard and as UNICEF, we believe this is primarily caused by unsafe water and poor hygiene practices.
"Tests have shown that all open wells and many boreholes in Lilongwe city are contaminated and should not be used for drinking. On the other hand, rivers and open wells are not a good source of drinking water.
"Hence, the distribution of the potable water is one way of making sure that people here at Mitengo have safe drinking water to prevent possible future outbreaks," said Wadening.
However, he said it is everyone's responsibility to make sure they protect their families through practices like regular hand washing and safe disposal of faeces.
Wadening however said the campaign, which is being done with support from DFID is just a short term measure noting that there is need for the Lilongwe Water Board to come up with permanent solutions.
In his remarks, Director for planning and development in the Lilongwe District Council, Douglas Moffat said they are working hand in hand with the LWB so that the area should in the future have piped water.
"Firstly, LWB has helped us since the initial cases were reported by providing us with water bowsers. But for the long term solutions, the LWB has assured us that they will have to conduct a research work to see how best piped water can reach this area," said Moffat.
One of the victims of Cholera outbreak in the village is 38 year old Blessings Kachingwe, who suspects to have contracted the disease from her seven year old daughter.
Kachingwe who both with his daughter made a full recovery said the distribution of water would help in making sure people access safe water and prevent new cases.
However, he said everyone should take precaution in order to fully combat cholera.
"I urge everyone to observe hygiene in everything they do. They should make sure they drink only safe water.
"On the other hand, if they observe any signs of cholera which include vomiting and diarrhoea, they should rush to their nearest hospital for medical attention. Doctors are there ready to help," said Kachingwe.