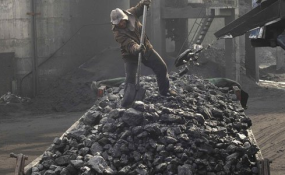 Photo: Daily Nation
By Jessica Bezuidenhout
Optimum Coal Mine management has laid the blame for the company's severe financial woes at the door of state-owned companies Eskom and Transnet - this despite lagging far behind on its coal supply obligations to the power utility.

George van der Merwe, CEO of Optimum Coal Mine, has said that as from the beginning of this year, Transnet had suspended its rail facilities, Eskom was now deducting penalties from payment due to the company and Bank of Baroda was allegedly failing to honour a court order that compelled it to retain the company's banking facilities.
Van der Merwe was addressing members of the National Union of Mineworkers who had downed tools in their quest for information about the sale of the mine and the financial woes of the company. The labour protest involved around 500 full-time staff and 2,000 contract workers.
Without access to the Transnet rail facilities, Optimum was unable to move export coal to the Richards Bay Coal Terminal, usually a key source of revenue, Van Der Merwe said.
He said income from export coal had formed part of the mine's initial business model but that it had now become impossible to generate...