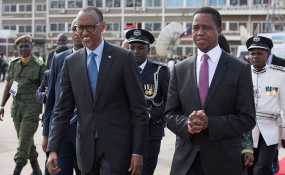 Photo: New Times
By Michael Chawe
Zambia President Edgar Lungu has defied criticism against his numerous foreign trips and flown to Rwanda for a "reciprocal" two-day state visit.
President Lungu has come under pressure from the opposition to scale down his foreign trips to cushion the ailing Zambian economy.
At a rally north of the country, he was forced to say he was cutting down on trips and would now "operate local".
Late last year, Rwandan President Paul Kagame visited Zambia and signed several agreements.
The Zambia presidency said President Lungu was invited by his Rwandan counterpart.
"...many memoranda of understanding and bilateral agreements are expected to be penned during the state visit," said Zambia State House spokesman Amos Chanda.
While in Zambia, President Kagame signed, among others, an extradition agreement.
In the past, the Rwandan government has accused Zambia of harbouring genocide suspects, allegations Lusaka denies.
In 2013, hundreds of Rwandan refugees leaving in Zambia turned down an offer by their government to grant them passports for purposes of repatriation.
They said the move would expose them to the Rwanda security agents.
President Kagame called on his compatriots to return home.
But Zambia has always maintained that it would continue with its policy of non-interference in the affairs of other countries.