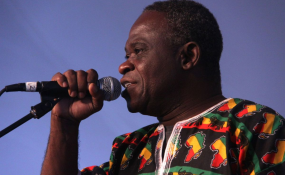 Photo: The Citizen
Legendary musician Samba Mapangala is planning a comeback to the music world with a new album. Mapangala, based in the US, is famous for the Vunja Mifupa hit song. For many years, Samba lived in Nairobi, where he led Les Kinois and, later, Virunga bands. He plans to release a new album later in the year.
The Congolese singer released Vunja Mifupa 28 years ago. The track has remained popular among his legion of fans in the East African region. Also in the Vunja Mifupa album were popular songs Marina and Virunga.
Speaking to the Saturday Nation recently, Samba said he would return to the studio in July after a five-year break.
"My adoring fans have insisted that I resume recording," he said.
The soft-spoken crooner and composer lives in Maryland, USA, with his wife and five children. He has three sons and two daughters.
He has groomed several musicians in his Orch Virunga band since moving to the US in 1996. "Three have completed studies and are looking for employment," he said.
Balancing between raising his children and continuing with the musical career, he adds, has not been easy.
He was backed up on his last album, Maisha ni Matamu, released seven years ago, by session musicians.
In the recent past, Samba has been rehearsing Niekese, a composition by veteran Paris-based guitarist Syran Mbenza. Syran played the solo guitar on Vunja Mifupa.
Samba has also been working on a joint recording with Kenya's Jabali Afrika titled Matadi. The group is based in Maryland.
"They (Jabali Afrika) often join me for African music shows on the East Coast," Samba said.
In April, he will release a collaboration with Tanzania Day Band, based in Texas.
Samba plans a summer tour ahead of the album release. He has teamed up with various Paris-based session artistes.
He also plans to tour Nairobi, where he made his debut with Les Kinois band in 1977. Before moving on to Kenya, the band had been based in Uganda.
He has fond memories of veteran Nairobi-based producer Tabu Osusa.
In DR Congo earlier in his career, Samba was inspired by the Soki brothers (Soki Vangu and Soki Dianzenza), who led Orch Bella Bela Band in 1970. The band relocated to Kampala from Kinshasa in the 1970s
Samba started his musical career in Matadi before he moved to Kinshasa, where he sang in church choirs.
"I grew up listening to Tabu Ley," Samba recalled.
His first group was the Orch Saka Saka Band, led by Bikassy Bijos in 1973 in Kinshasa.
He would later team up with Pele Ondidia, Madjo Maduley, and Bibi Ley Kaba Kaba to form Orch Les Kinois.
"We moved to Kampala in 1976 due to the stiff competition," he said.
Breakthrough
Their breakthrough came in 1977 when the band moved to Kenya. Then, Nairobi hosted many Congolese bands, including Super Mazembe, Les Mangelepa, Les Noirs, Bana Ngenge, Simba Wanyika and Baba Gaston.
Les Kinois recruited Kenyan guitarist Okello Jose, nephew of singer Juma Toto. Jose is now based in Australia. Also in the band was Ugandan congas player Kasule Mopepe.
Les Kinois performed at the Inn on the Park at Uhuru Park and Garden Square, Nairobi.
The group released many hits, including Malako and Sunday. In the late 1970s, Samba released Mwanamboka, Ilolo, Semeki Siama, and Fwaya.
Les Kinios were once attacked by armed gangsters during a tour of Uganda in 1980. "I was accompanied by Fataki ya Lokassa (deceased) during this fateful tour, which resulted in the break-up of the band," Samba said. On their return to Nairobi, alongside Fataki, Sammy Mansita , Tabu Osusa, Johnny Co Walengo and Dhago Mayombe, Samba formed Orch Virunga in 1981.