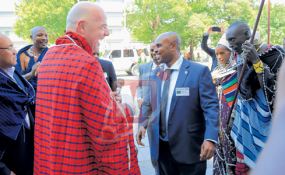 Photo: Antony Siame/ The citizen
By Ibrahimu Bakari
Dar es Salaam — Fifa will construct modern stadiums in nine regions in the country, the world soccer governing body's president Gianni Infantino pledged yesterday.
Infantino made the promise after a meeting with Prime Minister Kassim Majaliwa in the city.
The Fifa chief, who was in the country for the federation's executive summit, said having modern stadiums upcountry was one of the best way to turn around the country's football fortunes.
Infantino said that Tanzania already has a framework that can be worked upon for long term success.
He promised to establish a productive working relationship with the Tanzania Football Federation (TFF) that would be geared towards sustainable development.
Tanzania was the destination and attention of world football for two days during the Fifa executive summit, which ended yesterday in Dar es Salaam.
The Fifa boss also showered praise on the government for its efforts to arrest corruption and embezzlement in football.
He also warned national football association officials who misuse funds they receive from Fifa for football development, saying they will be doing so at their own peril.
"Fifa releases $1.2 million for each national association for football development, but some officials misuse the money," he charged.
Earlier, Prime Minister Kassim Majaliwa assured Infantino that Tanzania will team up with Fifa in promoting youth and women's soccer in the country.
Majaliwa said the fifth phase government would like to see Tanzania joining the best football playing nations in Africa and the world at large.