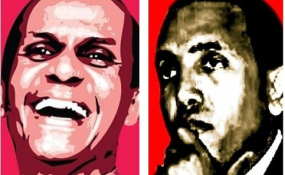 Photo: Amnesty
"The social media offer the youths with several benefits and opportunities, including access to information, extended social networks, social skills practice, among others. But everyone should also understand its daunting impacts in razing the social fabric and risking national security if it goes unchecked."
It was a remark that Addis Ababa Communication Affairs Bureau Deputy Head Nesredin Mahmud given last week at three-day social media skill training session offered to youths drawn from various public institutions.
"It's high time to shape and equip the youths with appropriate social media skills and knowledge," he added.
He also called on the youths to fully understand the intentions of groups and individuals that disseminate information on social-media platforms.
Addis Ababa Youth Association President Solomon Gebru, for his part, underscored that increased use of social media has both opportunities and threats.
"The risks include privacy concerns such as sharing too much information, posting of false information about themselves or others, exposure to fraudsters and marketers, and addictions to Internet or social media use that might impact negatively on their social, psychological, and emotional well-being."
According to him, social media is not the place to vent our frustrations and violent thoughts that could drag the nation to unrest; the Association understands that the youths should be treated equality and access resources equitably. But, presenting this quest in a destructive way is rather counter productive, he advised.
On line monitoring expert from Addis Ababa Communication Affairs Bureau Musse Yiheyse for his part noted that social media is an integral part of today's society. With loads of information being disseminated over the Internet, social media has become the very fabric upon which our society is being built, to him.
The people who are at the forefront of molding the future of social networking sites are teens and children, as they are said to be the majority of users. Reportedly, many teens spend an average of eight hours online every day-- a time which could have been spent on research and learning.
For the past decade, social media has been touted as a platform for youngsters to congregate online and interact socially as if they were in person, regardless of their distance from each other. There are likely teens out there who do not know of many other uses of the Internet other than their favorite social media platform--which they scroll on pictures, click likes... .
While there have been many negative outcomes from social media such as cyberbullying and other online dangers, social media can be used in ways that promote positive and productive ideas in society. These positive behaviors make social media an invaluable tool to young people if used correctly. And trainings to the youths should focus on these virtuous sides of the platform.
To me, in the age of social media, even the slightest predicament can quickly gain momentum and get out of control, this is happening to our nation because the youths are leaning on social media as credential source.
"While we use Social media, it should be based on integrity as well as with transparency."
Lastly, it is important to monitor the social media inappropriate usage whatever cost it takes, so long as it is for the good of the society.
"I agree, many young citizens placed great importance on the role of online activism. But there are also individuals who use the platform to pursue own cynical interests such as disseminating hate speech, derailing the people's long-held coexistence...."
The youths should be ushered in the proper usage. To mention, a Facebook group like "Disability is not inability" is active in creating more conscious community towards people with disability.
It is crystal clear that there is a growing awareness of the significance of social media as means of communication in times of both natural and man-made disasters and crises.
While the mainstream media have long been used as a means of disseminating messages to communities in times of crises - bush fires, floods, earthquakes etc. - the significance of social media in enabling many-to-many communication through ubiquitous networked computing and mobile media devices is becoming increasingly important in the fields of disaster and emergency management.
Moreover, social media is making positive impacts on harnessing social connection among various groups and institutions. It in particular empowers the youths in expressing their opinion.
But the limitations relating to the proper use of the social media are posing huge daunting impact on communities, political institutions and beyond.
In the final analysis, being active in social meida networking sites can be a new adventure for young people. It is like exploring a new place where different skills are needed. Young people should, therefore, learn how to use the media for the good of the society, they have to be coached and children should be precluded from using the platform--this also calls for a comprensive law that regulates the sector and proper enforcement.