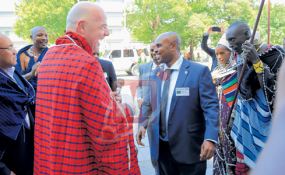 Photo: Antony Siame/ The citizen
Mbonile Burton — TANZANIA Football prominent figure, Leodger Tenga has commended a move by the International Football Federation (FIFA) to bring its Executive Football Summit (EFS) to Tanzania.
The world football governing body's Executive Summit will be held tomorrow at the Julius Nyerere International Convention Centre (JICC) in Dar es Salaam. As well, Tenga also hailed the support from the continental football body (CAF) and the government in ensuring the summit meets the desired success.
Tanzania has been selected as a member association to host one of the 12 FIFA EFS meetings, which begun last November and will stretch up to March this year, as part of FIFA President Gianni Infantino's vision of 'bringing FIFA back to football and football back to FIFA.'
Ahead of the summit to be presided by president Infantino, Tenga who also serves as CAF Executive Committee member, said the FIFA Executive summit is a rare opportunity the country should seize to ensure its ripples leave significant effect to the country's football development. "This summit is of a huge significance for the Tanzanians because it brings in the country top brass from FIFA as well as those from the Confederation of African Football (CAF), which include its President Ahmad Ahmad," explained Tenga.
Earlier, the Minister for Information, Culture, Arts and Sports, Harrison Mwakyembe, said the fact that FIFA selected Tanzania to host such a meeting, signifies that the World football governing body has faith in policies and strategies the country was taking in developing football. "They have shown faith on us and the kind of transformation FIFA was undergoing under the leadership of president Infantino was a replica of what the fifth phase government under President John Magufuli was doing here.
We are all cleaning our houses," Mwakyembe told sports editors in Dar es Salaam earlier last week. Tenga who now serves as the National Sports Council (NSC) Chairman and former Tanzania Football Federation (TFF) president, said he was very proud of what Fifa has done by picking Tanzania as the venue of the top brass summit.
"Fifa is the development oriented organisation aiming to develop football to the next level. It is the same aim we see in CAF and our beloved government," explained Tenga. Tenga believes under the current Fifa president Gianni Infantino, development fund for member countries has been increased five times from 1m/- US dollar to 5m/-US Dollars for a four-year period.
He said that Fifa focuses on developing football infrastructure, organisations as well as training of coaches, referees, sports administrators in administrative and financial disciplines. "These are all positive thinking. You can't develop football if you do not focus on this areas," said Tenga who added: "And all these things come through a programmed called 'Fifa Forward Programmes'.
He said Fifa development funds are offered to a country that submits development programme with very clear targets. Adding, he said hosting a summit in Tanzania is a blessing since football major issues will be discussed here. Tenga said there are a lot of positive things coming alongside this Fifa administrative summit, which every Tanzanian needs to be proud of and support.
Also doing a commendable job in changing African soccer is the continental football governing body (CAF) under Ahmed Ahmed. "CAF has done something unique in consultation, good example is the last year First Football Symposium held in Rabat, Morocco which involved all stake holders---association presidents, former players, administrators and prominent Journalists," he said.
He said that it is the meeting that comes out with progressive idea that resulted into a re-schedule of the CAF calendar and competition structure for the good of Africa football. According to Tenga, CAF president has done a wonderful job, creating in a good governance and good financial disciplines. However, Tenga said he is very proud of Tanzania because everything being done seems to match with Fifa and CAF in terms of achievements.
Tenga welcomes all Fifa visitors to feel at home when in Tanzania and he believes they will all have good time. When launching this series of summits in Paris in November 2016, President Infantino made it clear that the beautiful game can only develop successfully if FIFA cooperates closely and communicates regularly with its 211 member associations.
"It is important that in future the decisions at FIFA are not dictated from the top but really come from those who have to engage with and organise football in their countries every day," he said.
Since then, 11 strategy summits have been held around the globe in the series, with approximately 20 member associations discussing predefined topics and inspiring each other.