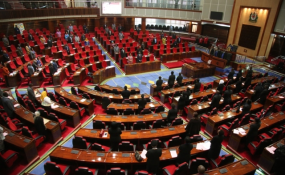 Photo: Daily News
By Christopher Kidanka, Beatrice Materu
Political parties, religious and civil society groups in Tanzania are protesting insecurity, human-rights abuses and curtailing of freedoms by the government.
The Tanzania Centre for Democracy (TCD), a lobby of political parties with representation in parliament, met with religious leaders in Dar es Salaam last week noted that violation of human rights was affecting the country's growth.
Members of the ruling Chama cha Mapinduzi (CCM), the opposition Chadema, NCCR-Mageuzi, United Democratic Party, Tanzania Labour Party and ACT-Wazalendo, and clerics from various denominations met in private.
Later, TCD issued a statement saying the group would seek an audience with President John Magufuli to express their concerns, and specifically express the need to revive the constitution review process.
Chairman of the Supreme Council of Islamic Communities and Institutions Sheikh Musa Kundecha told The EastAfrican that the meeting was necessary since the country was in a "state of fear."
Two weeks ago, a college student, Aquilina Akwilini, was killed by a stray bullet when police were dispersing Chadema demonstrators in Dar es Salaam.
Christian Council of Tanzania (CCT) chairman Dr Alinikisa Cheyo said the state "does not respect the right to life and freedom of opinion."
"We need to be guaranteed our safety," he said.
But the CCM representative at the meeting, Wilson Mukama said that a new constitution was not a priority of the government of the day.
"Kenya has one of the best constitutions, but their elections have turned chaotic," he said. "What we need are strong institutions and not strongmen. We have a ruling party that is strong and that is reflected downward."
James Mbatia, TCD chairman, however, said some of the problems are a result of the lack of strong institutions, and called on the revival of the constitution-making process.
On the same day, representatives from more than 100 civil society organisations also convened in Dar es Salaam and expressed concern on the state of democracy and security in the country. They also asked for a new constitution before the next general elections in 2020.
"We advise that the constitution review be revived this year since 2019 and 2020 the nation will be preoccupied with electoral matters," said Onesmo Olenguruma, director of Tanzania Human Rights Defenders Coalition.