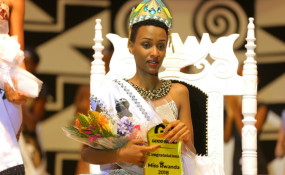 Photo: New Times
By Athan Tashobya
Liliane Iradukunda has replaced Elsa Iradukunda as Miss Rwanda.
Liliane Iradukunda was crowned Miss Rwanda 2018 in a colourful grand finale held at the iconic Kigali Convention Centre auditorium on Saturday.
She beat off stiff competition from the 20 girls who spent 14 days in the boot camp at Golden Tulip La Pallise Hotel in Nyamata but mainly Shannitah Umunyana and Natacha Ursule Irebe who were crowned first and second Runner Up respectively.
Iradukunda, 18, who represented Western Province weighs 57kg, and 1.70 meters tall.
Iradukunda took home a brand new Suzuki Baleno courtesy of Rwanda Motors and will earn a monthly salary of Rwf800,000 courtesy of Cogebanque for the next one year.
She also got a package of additional prizes that include cosmetics, and air tickets to international beauty contests from RwandAir, among other goodies from different sponsors.
Different from previous Miss Rwanda editions, contestants had an oral test that was moderated by Sonia Rolland, Miss France 2000 and other judges. Results from both written and oral pre-judgement were key in determining the contestants who made it to the top 10. The results were announced during grand finale and those that made it into the top 10 were:Liliane Uwase Ndahiro, Liliane Iradukunda, Noriella Ishimwe, Shanittah Umunyana, Natacha Ursulle Irebe, Lydia Dushimimana , Karen Umuhoza, Paola Umutiwase, Phiona Uwase and Divine Ingabire
How the girls faired in boot camp also increased their chances of succeeding reigning Miss Rwanda, Iradukunda.
The jury was comprised of two men and three ladies. They included, Sonia Rolland, a Rwandan-French actress and was Miss France in the year 2000 and former Miss Universe contestant, Jolly Mutesi, Miss Rwanda 2016 and the first beauty queen to represent Rwanda at Miss World finals and Sandrine Isheje Butera, a radio presenter and one of the leading media personalities in Rwanda l.
The two male judges were, Gilbert Rwabigwi, the leader of Youth Literacy Organisation (YouLI), a nonprofit NGO that promotes literacy and learning and Teddy Kaberuka, Co-founder and Regional Director of Chief Executive Officer of IO4 Progress Limited.
It was Rolland's second time to be on the panel of judges at this beauty contest. Her first time was in 2009 when Grace Bahati was crowned Miss Rwanda.
Before announcing Miss Rwanda 2018, the Chief Judge Rolland confessed that "It was not easy I swear" as though to confirm the surprising silence that swept Kigali Convention Centre auditorium when Iradukunda was announce the new beauty queen.
Other winners:
Miss Congeniality: Liliane Uwase Ndahiro
Miss Photogenic: Liliane Iradukunda
Miss Heritage: Lydia Dushimimana
Contestants sat for a written test to assess their knowledge about different government programmes, the vision and mission of the Miss Rwanda beauty pageant and their role in society.
Rwanda Inspiration Backup are the organisers of the annual beauty pageant.