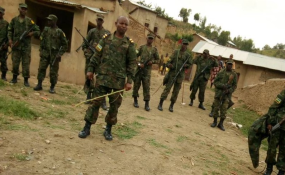 Photo: Rwanda's Rights/Twitter
By Philipp Sandner
Five people were killed and many more injured in protests that broke out in a Rwandan refugee camp earlier this week. The refugees were protesting a cut in food rations brought about by a funding gap.
Five people protesters were killed, 20 wounded this week when security forces clashed with protesters at the refugee camp in Kiziba. The protests outside the UN offices began on Tuesday as a result of cuts in food rations. The UN's World Food Program (WFP) explained that it was forced to cut rations by 25 percent because European donor countries cut their funding. The protest escalated on Thursday.
"We have detained five of the instigators of these illegal protests," police spokesperson, Theos Badege told DW. Seven police officers also suffered injuries during the protests.
The camp is one of six Rwandan refugee camps which hosts refugees who fled the political unrest in Burundi and ethnic violence in the Democratic Republic of Congo (DRC). The camp in Kiziba currently hosts 17,000 people.
Read also: Burundi should cooperate with ICC investigators
UNHCR calls for an investigation
The police defended their harsh crackdown, saying that the protesters were not cooperating. The refugees had allegedly been advised not to leave the camp and remain calm as long as the government was still negotiating with the UNHCR. The protesters had, however, not complied with this order and marched towards the capital, Kigali. Some of the protesters had armed themselves with sticks and stones, according to police.
The government must guarantee the security of the refugees, a UNHCR spokesperson said on Friday, demanding an investigation into the deaths. The organization said that only two percent of its funding appeal for 2018 for Rwanda had been secured.