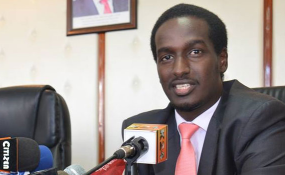 Photo: Capital FM
By Mac Otani
The Executive Director and Chief Executive Officer of the National NGOs Coordination Board Fazul Mahamed has resigned.
In his notice of resignation posted on the NGO Board's official Twitter handle, Mahamed said he would officially leave office on April 30, 2018 after serving at the helm of the board for three years.
"During the past three years, my tenure at the Board has been nothing short of pure excitement and joy," Mr Mahamed stated in the letter dated February 19, 2018, which was addressed to the NGO Board chairman Amos Ntimama.
The reason for Mr Mahamed's exit from the Board, which operates under the Ministry of Interior, remains unclear.
But according to one of his handlers, he is positioning himself for a higher post in the public service.
"I wish to sincerely thank the Board of Directors for the invaluable opportunities extended and I commit to effecting an expedient and smooth transition," he added in the resignation notice.
Its with deep regret that we announce the Resignation of our Executive Director Fazul Mahamed. We wish you all the best Sir.
@ntvkenya @citizentvkenya @KTNKenya @KTNNews @K24Tv. pic.twitter.com/lWlBspwhBo
- NGOs BOARD, KENYA (@ngoboardkenya) February 26, 2018
Mr Mahamed has in the recent months been at loggerheads with civil society and opposition figures following his crackdown on their alleged illegal operations in the country and dubious financial spending.