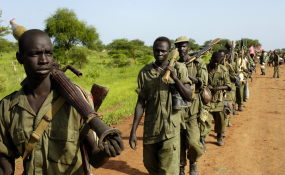 Photo: Timothy Mckulka/UNMIS
Khartoum — The Deputy Director of National Intelligence and Security Service(NISS), Lt, Gen. Jalal-Eddin Al-Sheikh Al-Tayyib, has called for stopping support to the negative movements and bring their leaders to justice over crimes they committed.
Addressing the consultative meeting of the Committee of Intelligence and Security Services of Africa(CISSA) held at Security High Academy in Soba, Khartoum, Monday, in coordination with NISS Lt. Gen. Al-Tayyib, it is high time for translation of words into actions and taking decisive decisions against negative movements activities.
He said the Sudanese negative and rebel movements have been active in robbery , killing and smuggling inside the Country and transformed into mercenaries in the neighboring countries by participating in battles in Libya, effectively implicating in human trafficking and participating with mercenaries in South Libya.
The NISS Deputy Director said CISSA has dispatched a teamwork to Niger and Libya to investigate this phenomena , commending cooperation of the Security Services in the two countries with CISS's team.
He said participation of experts from Security Services from different African countries confirms coordination over threats facing the continent.
Lt. Gen. Al-Tayyib said the growing of phenomenon of mercenarism and terrorism impedes development and stability in Africa and is constituted one of causes of Africans suffering.
He indicated to participation of 17 security services and officials of AU Commission in the CISSA consultative meeting set to confront the human trafficking -linked gangs, pointing out that the rapid developments in African countries brought challenges that necessitate joint cooperation and coordination and exchange of information to address such challenges.