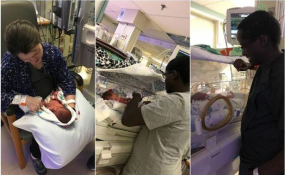 Photo: Nairobi News
By Hilary Kimuyu and Agencies
A Kenyan couple in the United States has puzzled the medical fraternity following the delivery of what doctors have termed as a one-in-a-million birth.
The couple, Nicole and Caleb Choge, are celebrating the birth of their triplets who happen to be identical.
The baby boys Ron, Elkanah, and Abishai were born just minutes apart from each other and on Sunday and were "doing wonderfully" under observation in the hospital's neonatal intensive care unit, according to local reports.
The triplets were born at 34 weeks, which is about a month and a half premature, said Dr Josh Petrikin, medical director of the NICU, who is also on staff at Children's Mercy Hospital.
"These babies don't seem to realize that and they're doing quite well. All in all, they're doing wonderfully," Dr Petrikin said.
The babies were delivered with the help of Petrikin and Dr Emanuel Vlastos, medical director of fetal therapy at Children's Mercy Hospital, who is also on staff at Truman. The two hospitals partnered to provide specialty care to the triplets and their mother.
VERY SURPRISING
The couple met while Caleb was training to be a pilot at Embry Riddle Aeronautical University in Florida and until recently, they lived in Kenya where Choge was working as a pilot.
Ahead of the birth they moved to the Kansas City area, close to where Nicole Choge's family lives.
The couple, who already has a 2-year-old son, were surprised in September 2017 when a routine sonogram done by their doctors in Kenya revealed they were having triplets.
"We had a scan in Kenya and they found twins the first time. We went a second time to be sure and they found triplets," Caleb told ABC News. "We came to the States to get a third opinion to be sure."
"It was very shocking, very surprising. Both exciting and scary," Caleb said of learning they were expecting identical triplets.
Doctors say the Choges may be able to take at least two of the triplet's home in the coming days.