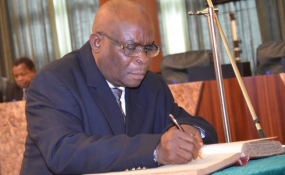 Photo: The Guardian
By Justina Felix
The Chief Justice of Nigeria, Walter Onnoghen, has ordered judges to resume at 9 a.m. and close 4 p.m. daily in all courts.
Mr.Onnoghen said this at a function on Tuesday at the presidential villa, Abuja. The event was organised by the Itse Sagay-led Presidential Advisory Committee Against Corruption.
Mr. Onnoghen's directives was part of 13 reforms aimed at fighting corruption and ensuring speedy and transparent delivery of justice in the Nigerian judicial system.
"Backlog of cases, delayed proceedings and corruption allegations against officers are some of the stains the institution has been battling to remove," he said.
"In the recent past, the judiciary has been accused of corruption along with the allegation that when complaints of corrupt practices and unprofessional conducts are brought before the National Judicial Council (NJC), the Council shields or delays investigating the allegations so levied against judicial officers," he said.
The president of the court of appeal, Zainab Bulkachuwa, read the reform address which is embedded with different directives to improve the judicial system.
"The reforms I have introduced cover a wide range of issues; from establishing new modalities for appointment of judicial officers, to tightening judicial discipline regulations and fashioning out a speedy way to clear backlog of cases, among others," the chief justice said.
He went further to say that irrelevant delay in justice system is equivalent to corruption and that the judicial system, like any other institution, needs constant review to ensure improvement.
The reform includes: Establishing new modalities for appointment of judicial officers, Tightening judicial discipline regulations, Fashioning out a speedy way to clear backlog of cases, Speedy and transparent delivery of justice.
In addition, Rules of Court Procedure are now to contain provision for the award of punitive cost by the court for frivolous litigation or delays, Reviving and strengthening the Inspectorate Division to ensure judicial officers go to work and sit in their courts from Monday to Friday from 9 a.m. to at least 4 p.m.
Also, the President of the Nigerian Bar Association (NBA) is to assist the NJC with a separate assessment report on all NBA candidates being considered for judicial appointment. Also, all judges of lower courts and other public officers such as chief registrars and secretaries, among others, are henceforth required to write examinations before being appointed.
Others are: To constitute more committees to investigate allegations against judges, all heads of courts are to designate some courts in their jurisdictions as special courts to handle corruption cases, while 20 per cent of Judiciary Budget is to be devoted to Corruption and Financial Crimes Cases Trial Monitoring Committee (COTRIMCO).
In conclusion, all travels outside Nigeria by judges will now be with the permission of the CJN, after an application would have been made; and lastly, all judges of lower courts in the country have been directed to submit returns of cases quarterly to the Federal Judicial Service Commission (FJSC).