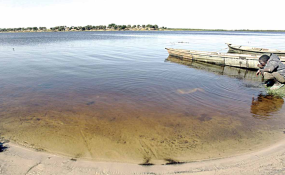 Photo: The Guardian
President Muhammadu Buhari yesterday described the negative effects of the shrinkage of Lake Chad as enormous.
Speaking in Abuja at the the International Conference on Lake Chad, Buhari said due to the shrinkage of the Lake, "herdsmen migrate in search of greener pastures resulting in conflicts.'
The president said the shrinkage was also making farmers and herdsmen struggle over the little water left.
He said youths also "are joining terrorist groups because of lack of jobs and difficult economic conditions; a situation, he said, had resulted in serious instability in the subregion.
He also cited a report by the United Nations Office for the Coordination of Humanitarian Affairs that food security had deteriorated, with more than seben million people in the sub-region facing the threat of famine and half a million children suffering from severe malnutrition.
President Buhari also observed that with the shrinkage of the Lake, fish varieties were long gone leaving the fishermen jobless.
President Buhari stressed that the issues of the Lake Chad must be treated with the urgency they deserved, while the needed political commitment should also be shown towards reviving the Lake.