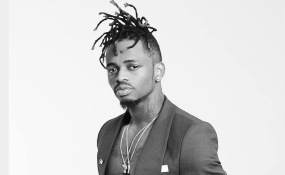 Photo: Diamond Platinumz/Instagram
By Louis Kolumbia
Dar es Salaam — Ten local Bongo flavor musicians faced the major blow, after the Tanzania Communications Regulatory Authority (TCRA) announced the ban of some of their music, in the ground that they are against Tanzanian norms and values.
The ban has involved thirteen songs of different genres including Hip Hop, traditional fusion (Singeli), rhythm and blues (R&B).
TCRA names the banned songs as Hallelujah and Waka Waka by Nassib Abdul aka Diamond Platnumz, Pale Kati Patamu and Maku Makuz by Emmanuel Elibariki alias Ney wa Mitego, Chura and Nimevurugwa (Snura Mushi aka Snura).
Others and names of respective artistes in bracket are; Hainaga Ushemeji (Aman Hamisi aka Manifongo), I'm Sorry JK (Nicas Mchuche aka Nikki Mbishi), Kibamia by (Abernego Damian aka Roma Mkatoliki, Tema Mate Tumchape, (Hamad Ali alias Madee), Uzuri Wako (Juma Mpolopoto alias Jux), Nampa Papa (Gift Stanford aka Gigy Money) and Nampaga (Barnaba Elias aka Barnaba).
A statement released by TCRA on Thursday, February 28, this year says its decision was reached after receiving a letter from the National Arts Council of Tanzania (Basata) bearing a list of records and respective artistes whose tracks violated the Tanzanian norms and values.
"The said records have lyrics which violate ethics of regulations of broadcasting services (Content) 2005," reads part of the TCRA letter to broadcasting stations.