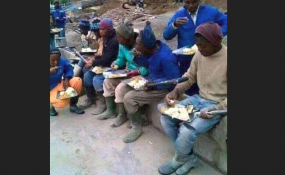 Photo: Zambia Reports
By Paul Mwitwa
Is this really happening in Zambia? An image shared on social media and attributed to Daimone Siulapwa depicts Zambian workers having lunch at a Chinese construction company.
Zambia Reports is independently verifying the authenticity of the picture although all signs point to the fact that this is not a dream. It's happening in Zambia. Really?
Daimone Siulapwa is Editor-in-Chief at the Voice Newspaper. Tell us what place this could be.