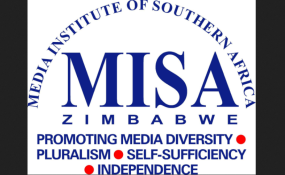 Photo: Misa Zimbabwe
By Abigail Mawonde
The National Governing Council (NGC) of Media Institute of Southern Africa Zimbabwe Chapter yesterday announced the appointment of Mr Tabani Moyo as the national director for MISA Zimbabwe.
He takes over from Mr Nhlanhla Ngwenya, who left the organisation in August last year.
"The National Governing Council (NGC) of MISA Zimbabwe Chapter is pleased to announce Mr Tabani Moyo's appointment as the national director for MISA Zimbabwe with effect from the 1st of March 2018," said the NGC chairperson Mr Golden Maunganidze.
"He takes over from Mr Nhlanhla Ngwenya, who left the organisation in August 2017 in pursuit of his personal career growth objectives,"
Prior to the appointment, Mr Moyo was the acting director since Ngwenya's departure from the organisation.
He also served the organisation as the Programmes Officer -- Advocacy, the position he held for nine years.
Mr Moyo holds a Master's degree in Business Administration, Chartered Postgraduate Diploma in Marketing, BBA in Marketing, BA in Media Studies and Diploma in Journalism and Communications.
Meanwhile, MISA Zimbabwe has condemned the harassing of journalists yesterday at the MDC-T headquarters in Harare by rowdy youths at a Press conference by that party's leader Mr Nelson Chamisa.
In a statement, MISA said: "Senior Herald reporter Zvamaida Murwira and freelance journalist Anna Chibamu were allegedly harassed by MDC-T youths on March 1, 2018 at the party headquarters during a Press conference to confirm Mr Nelson Chamisa as the party President.
"Journalists who attended the meeting reported to MISA Zimbabwe that the environment was intimidating and uncomfortable for the Press to ask questions. It is said Murwira questioned why the party was not holding a congress to decide its leadership. Chibamu made a follow up question, which irked the party leadership and structures, who were in attendance."
MISA said the journalists managed to escape unhurt.
"It is deplorable to note that the party leadership used inflammatory language against The Herald reporter and did not restrain their supporters from harassing journalists," said MISA.
"MISA Zimbabwe reiterates its position that media freedom and freedom of expression are rights that are core to the practice of journalism. These rights are constitutionally guaranteed and must be respected."
It added: "Politicians should not interfere with journalistic enterprise for self-serving reasons of political expediency and should approach the Voluntary Media Council of Zimbabwe for redress if they have any grievances or complaints that are content related.
"We urge all political parties to desist from the habit of inviting their structures and supporters to Press conferences. This practise has a chilling effect on the media because of the intimidating atmosphere that is created."