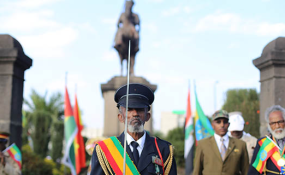 Photo: Addis Fortune
By Desta Gebrehiwot
ADWA- A three-year Adwa mountains and victory tourism project was launched here in Adwa town in a bid to promote the historic victory and develop touristic site of the town.
The 250 million Birr project initiated by Tigray Tourism and Culture Bureau is also part of the ongoing seven components of the state's tourism project.
The project will have various tourism products under the capacity building and development promotion and conservation, burial sites and battle ground conservation, project coordinator Teklebrhan Legesse said.
News innovative tourism products including trekking, mountain climbing, Amphitheater, and hot air balloon, cable car will be parts of the projects.
Currently the town, which is home to various historical and cultural heritages, is hosting little number of tourists, he said, adding that the new project, up on completion, will help the town to host increased number of visitors from around the world.
Resource mobilization is also required both from the community and government for the successful implementation of the project.