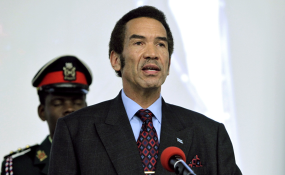 Photo: /Paulo Filgueiras/UN
By Lindi Morwaeng
Lentsweletau — President Lt Gen. Dr Seretse Khama Ian Khama has expressed gratitude for all the gifts he has received saying he will put them to good use.
He said this during a farewell meeting in Lentsweletau on March 2 adding that he will use the money to take care of the livestock he has been receiving from Batswana.
The residents complained about the road linking Lentsweletau and Molepolole which they said was in a bad state and President Khama said the road would be budgeted for when funds were available.
He also said there were other factors such as the number of vehicles that used the road and availability of funds to determine whether the road could be tarred or not.
He however said in the meantime gravel roads should be graded continuously.
Meanwhile, residents of Lentsweletau/Mmopane praised the President for all the good he had done in the country.
Constituency representative, Ms Edna Molomo stated "you have made us proud."
She said Batswana had generally affirmed this statement in all Kgotla meetings to bid the President farewell.
She therefore said people in the country could confidently walk tall even when visiting other countries priding themselves to be Batswana because of the good leadership the country was known for.
Ms Molomo indicated that because of President Khama's dedication and compassion, poverty levels had drastically decreased.
She further said that was possible owing to the President's various initiatives from agricultural to youth based programmes, all designed to help Batswana for free so that their economic status could change for the better.
Speaker after speaker echoed the sentiments surrounding President Khama's achievements as a statesman.
Kgosi Morulaganyi Makgasane also said the President had managed to uplift many lives.
He however pointed out that Lentsweletau was lagging behind in developments citing the road that linked the village with Molepolole.
He said the road which is 35km to Molepolole would make movement of people and goods a lot easier if it was tarred.
Barclays bank managing director, Ms Reinette Van Der Merwe on behalf of the organisation wished President Khama well. She thanked him particularly for his patronage and support to businesses.
The area MP, Mr Vincent Seretse expressed gratitude for Khama's compassion which was demonstrated during the time of economic recession when he stepped into office.
Instead of laying-off workers he said President Khama decided to keep them and devise a way of providing for those who did not have an income.
Source : BOPA