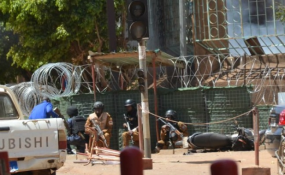 Photo: L'Observateur Paalga
In a statement issued by the Ministry of Foreign Affairs on March 3rd, the Arab Republic of Egypt condemned in the strongest terms the terrorist attacks that targeted the French Embassy, the French Cultural Center, and the army headquarters in the capital of Burkina Faso, Ouagadougou, killing some 35 people and injuring 90 others.
The statement expressed sincere condolences to the families of the victims, wishing a speedy recovery for the injured, stressing that the Egyptian government and people stand with both governments and peoples of Burkina Faso and France against the phenomenon of terrorism. The statement also affirmed Egypt's support for the efforts exerted by France and the Sahel countries to confront such phenomenon that targets security and stability across the world.
The Ministry of Foreign Affairs