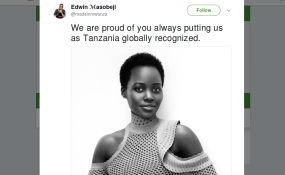 Photo: Edwin ℳasobeji/Twitter
By Mwende Kasujja
A Tanzanian user has faced the wrath of Kenyans on Twitter after trying to steal Oscar winning actress Lupita Nyong'o from Kenya.
The tweep, Edwin Masobeji using his handle @madeinmwanza, penned an emotional tweet on how proud Tanzania was to be associated with the Black Panther actress.
The tweet quickly went viral as Kenyans on Twitter offered to donate other celebrities to Tanzania.
Tanzanians on their part defended Masobeji claiming that next they would lay claim to footballer Victor Wanyama.
We are proud of you always putting us as Tanzania globally recognized. pic.twitter.com/NvmOs1FF2k
-- Edwin ℳasobeji (@madeinmwanza) February 24, 2018
For the first time kuona tweet from Tanzania.. Most of you mko Facebook. 😂😂 pic.twitter.com/rGxhsU1lys
-- Donvan Al Fayeed 🇰🇪 (@DonvanAlFayeed) February 24, 2018
This is the first English tweet from Tanzania that does not mention Diamond or his girlfriends. The tweet is grammatically correct, false but good for the entire country. Translation: Watanzania tunawaenzi sana, Platnumz ndio simba dunia nzima. Tumkaribisha Chibu ampose Lupita
-- Lucky Munene (@CorporateThugKE) February 25, 2018
Tanzanians waiting for that Lupita dream to come true. Translation: Serikali ya Tanzania yawajali mbwa koko mitaani pic.twitter.com/YSEyLp3Ktg
-- Sam Kulecho (@itsamkul) February 24, 2018
This is how we as Kenyans are waiting for you.. pic.twitter.com/fACR4qgcvm
-- Vionna (@Kurlycheeks) February 24, 2018
No, we didn't deport her bro. She is still kenyan. You can go for a stateless Miguna Miguna
-- Allan (@MostEmpire) February 27, 2018
lupita is from kenya, wanyama ,sauti sol barack obama who do you want?
-- #Delagate001 (@delaNumber1_fun) February 25, 2018
Mlishindwa na @ZariTheBosslady sembuse @Lupita_Nyongo
-- 7th Chorus (@7th_chorus) February 24, 2018
Kwa upole nakuomba mchukueni Jimmy Gait. Mnaeza mkatupa Ray C vileo si shida huku.
-- Jasiri (@Jasiri_TEA) February 24, 2018