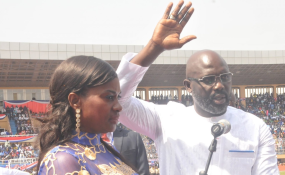 Photo: Liberian Observer
By Rodney D. Sieh
Monrovia — Liberia is still getting used to having a first lady around after a lull in the last twelve years when former President Ellen Johnson-Sirleaf, Africa's first female head of state was at the helm of state power.
Jewel Howard-Taylor, the last person to occupy the role as First Lady to former President Charles Ghankay Taylor, is now vice President to the current President George Manneh Weah.
Clar Weah who has in the past taken a lot of hits on the sidelines of her famous husband's political life, appears to be finding her foot in the rugged sand of the local politics and some Liberians are taking notice.
"I haven't met the First Lady, Madame Clar Weah personally, but I think she has a good heart. She is super engaging and will do an amazing job as the First Lady of the Liberia," posted Patience Handful Dalieh on her Facebook page last week.
The rare praise was in gratitude to Mrs. Weah's visit at the Catholic Hospital in Monrovia where she went to see Ama Geeplay, the little girl whose hands and feet were burnt by her aunt for eating her cold rice in Pleebo, Maryland County.
"Honestly, it saddens me to see what happened to this child. I cannot look at the pictures because it totally breaks my heart," said the First Lady, who called for drastic measures to protect children against such acts.
"We have to try to implement measures where we can protect these children because it's sad that someone could do something like this to an innocent child," she lamented.
Little Ama was brought to Monrovia through the assistance of the Gender Ministry and some child protection actors after a social media campaign drew attention to her plight when her hands were burned in hot oil by her aunt for allegedly eating leftover food without permission.
The child's palm is seriously defaced - with three fingers cut off, amid the dire need of intensive care.
But the First Lady did not stop there as she made a commitment to ensure that the girl's burnt hands are functional again.
The First Lady said despite the prevailing national economic constraints and while her Office was still being setup, she was ready to do everything possible within her power to assist the baby get the requisite help to feel hopeful and part of society again.
"With this case, I am sure we can do something. With your voice and my voice we can try to find a way to help her because she needs it. Even if I have to use my personal money to do it, I will," she assured.
The goodwill to little Ama is one of many activities the First Lady has been venturing in since the inauguration of her husband, a former World Best, European Best and African Best Footballer of the Year.
Showing her concern for children and reading, the First Lady has made two trips to reading rooms organized by the Kids Educational Engagement Project - first at the June Moore Public School on Duport Road in Paynesville and the Gbengbar Town School off the Robertsfield Highway where she left Project Director Brenda Brewer Moore impressed.
"Mrs. Weah seems to be a really nice and kind person. She was down to earth, relaxed and at home with scores of screaming kids. From my interaction with her, she also has proven to be a woman of her word."
Last weekend the toured facilities and ongoing construction projects at the Liberia Petroleum Refinery Company, LPRC where she expressed satisfaction over the pace at which the work is being done. She thanked LPRC Managing Director, Nyemade Pearson, and the management team along with the staff for their commitment to duty.
When women at the facility chanted: "We love you our beautiful First Lady," Mrs. Weah returned in kind, saying: "I appreciate it, I appreciate the love... But I never expected this."
Mrs. Weah met her future husband when she was a Customer Service representative at a Chase Bank in New York where Weah had gone to open an account.
Now fully grounded in the role of Liberia's first lady, Mrs. Weah is already on the verge of obtaining a Liberian passport because of her new portfolio.
Cllr. Linda Boley, a former officer of the Liberia Immigration Service (LIS), told FrontPageAfrica recently that the First Lady can now have a passport because her husband will waive her status and make her have a Liberian passport. But if he doesn't, she would have to carry her country's passport."
Boley said the process only requires a letter from the President's office waving her status and the letter will have to pass through the LIS and later to the court that will enable her have a passport.
The former LIS officer recalled another situation with former President Ellen Johnson Sirleaf's son, Robert Sirleaf.
According to her, when Robert came back home a few years into his mother's reign as President, he applied for a permanent resident permit prior to contesting for the seat.
The Aliens and Nationality law of Liberia Subchapter A. 'Obtaining naturalization' of which section 21.3. Petition for naturalization states: "Waiver of requirement for time interval after filing declaration of intention.
The requirement stated in paragraph 1 of this section that a minimum of two years elapse after the filing of a declaration of intention before the filing of a petition for naturalization, may be waived by the President of Liberia, and an applicant as to whom such waiver has been granted may become a citizen immediately after filing his declaration of intention upon taking the oath of allegiance."