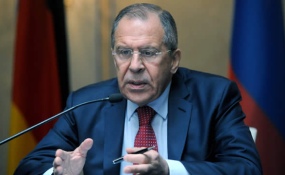 Photo: The Herald
Luanda — The Russian minister of Foreign Affairs, Serguey Lavrov, arrived on Monday morning in Luanda, for an official visit of some hours intended to strengthen the bilateral relations.
On his arrival the Serguey Lavrov was welcomed by the secretary of State for International Co-operaqtion and Angolan Communities Abroad, Domingos Custódio Vieira Lopes, as well as by Russian diplomats, among other personalities.
According to a note from the Angolan Ministry of Foreign Affairs, the official talks between the two countries' delegations will take place on Monday, however preceding that there will be a meeting between the two Foreign Affairs ministers, namely Manuel Augusto (Angola) and Serguey Lavrov.
The Russian Foreign minister is also to be received in a n audience by the Angolan Head of State, João Lourenço.
In 1976, Angola and Russia signed a Friendship and Co-operation Treaty that paved the way for various agreements signed and revised by the two states over the years, with emphasis on the sectors of energy, geology and mining, higher education, staff training, defence and security, public order, telecommunications and information technologies, fisheries, transports, finances and banking.
It is estimated that currently there are about one thousand Russian citizens residing in Angola, while it is estimated that the number of Angolans in Russia is about 1,500.