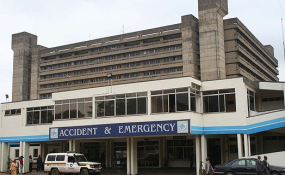 Photo: Nairobi News
By Elizabeth Merab
Registrars have boycotted work at the Kenyatta National Hospital in Nairobi after their colleague was suspended over a botched brain surgery that sparked public outrage.
A registrar is a doctor who is receiving advanced training in a specialist field of medicine to become a consultant.
The medical master's students on Monday said they would not resume work until the referral hospital resolves systemic issues, which have been partly blamed for the medical mishap.
They alleged unwarranted victimisation of one of their colleagues who was sent home after opening the skull of the wrong patient following a mix-up in identification tags.
The registrars held a meeting with officials of the Kenya Medical Pharmacists and Dentists Union (KMPDU) in the morning.
The hospital's chief executive Lily Koros and her deputy Bernard Githae and the Director of Clinical Services were last week sent on compulsory leave to allow investigations into the incident.
Health Cabinet Secretary Sicily Kariuki sent Ms Koros and Mr Githae home following public uproar.
A day before, on Thursday evening, Ms Koros suspended four medical staff, including a surgeon who performed a head operation on a wrong patient.
More follows.