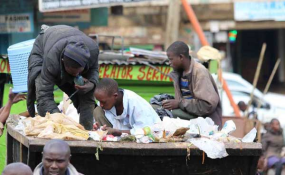 Photo: Daily Nation
By John Ngirachu
The Auditor-General has been unable to trace Sh230 million allocated for the rehabilitation of street families in the 2015/16 financial year, leading to doubts whether the amount was properly used.
The money was allocated to the Department for Devolution under the Ministry of Devolution and Planning.
In its financial statements, the ministry indicated that it had made a payment in the form of a grant to another government agency.
NO DOCUMENTS TO SCRUTINISE
"The amount was claimed to have been transferred to the Special Programmes Department," the Auditor-General reported.
"However, no expenditure returns have been provided in respect of the amount for audit review."
With no documents to scrutinise, the Auditor-General concluded that there was nothing on which he could depend to say how the money was spent and whether it was used properly as per the law.
When Treasury Cabinet Secretary Henry Rotich read the Budget Statement for the 2015/16 financial year in June 2015, he included street families as among the beneficiaries of the Sh27 billion safety net programme.