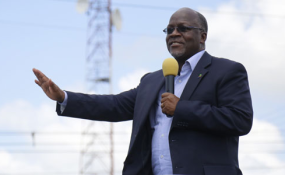 Photo: The Citizen
PRESIDENT John Magufuli has scooped the Mandela Peace Prize, thanks to Tanzania's key role in sustaining regional peace keeping policy. Palpable efforts towards social justice and peacemaking have played a decisive role in Dr Magufuli's triumph in the prestigious Mandela Prize Laureates 2017.
Mandela Institute said in a statement in Dar es Salaam yesterday that the award giving ceremony is scheduled for March 19, 2017, at Paris Marriott Champs Elysees Hôtel. Promotion of education, poverty reduction policies, relentless fight bribe and profligacy authenticate President Magufuli's firm commitment to improve the living conditions and support social peace in Tanzania, the statement said. Mandela Prizes are awarded annually to personalities or institutions to remunerate their laudable actions in favour of Africa and Peace, in the spirit of Pan- Africanism.
"Selection of Mandela Awards' winners follows three steps, with the first being the popular phase in which anyone may before June 30 submit a motivated candidacy for potential laureate," read the statement.
The second diplomatic step involves Diplomats and Personalities suggesting candidates before October 30, with the last stage of actual selection in which the Mandela Prize Committee selects five candidates among the suggested personalities and forwards the shortlist to the Jury that chooses the winners of the year.
The Institute's President, Dr Paul Kananura said Mandela Prize Committee received 4,956 entries for the 2017 edition, including 4,201 popular candidates, 155 individual candidates, 517 diplomatic candidates and 83 official candidates. Upon first reading, the committee rejected 528 unsubstantiated candidacies. "I appreciate the committee for the great work to examine 4,428 applications and select 80 for submission to the Jury, at a rate of five applications per each category, for the 2017 Laureates," said Dr Kananura.
Mandela Democracy Prize went to Kenyan President Uhuru Kenyatta, for embodying the spirit of democracy and recognizing institutional decisions, honouring the cardinal principle of power separation. President Kenyatta has highly contributed to strong democratic processes in Kenya. Chad's Idriss Déby Itno won the Mandela Security Prize for his firm and efficient anti-terrorist policy in the Sahel and Lake Chad regions. His far-sighted view and continental leadershipin securing habitats and fighting terrorism and jihadism in the Sahel-Saharan strip added him more credits.
Meanwhile, France has commended the Tanzanian government for its unyielding fight against corruption, expressing optimism that the released funds for development projects will be spent as planned.
France Ambassador to Tanzania Frederic Clavier, speaking during his visit to Prime Minister Kassim Majaliwa's residence in Dar es Salaam, said his country was satisfied with the anti-graft drive by President John Magufuli's administration.
He pledged sustained cooperation in execution of various development projects, hinting that by September, this year, France is expecting to open the French Development Agency (AFD) office in Dar es Salaam, for smooth service delivery.
Currently, AFD operates from Nairobi- Kenya. "The agency has been collaborating with the government in project execution, including the water projects in Simiyu, Mwanza, Mara and Morogoro regions," said a statement from the premier's office. The PM said that the government prioritises accountability and corruption war to ensure that funds released for projects are used effectively.
He said anti-corruption drive will help the government to achieve economic goals through flourishing industrial, agriculture and tourism sectors, inviting France investors to invest in the sectors.