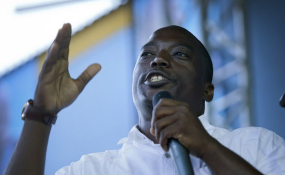 Photo: MONUSCO/Sylvain Liechti
By Michael Chawe News@tz.nationmedia.com
Lusaka — One person was killed and another seriously injured in a road accident involving the Democratic Republic of Congo President Joseph Kabila's motorcade in Zambia.
Zambia police said "there was a serious injury road traffic accident in which one person died", on Sunday.
It was the second time in as many weeks that President Kabila's motorcade was involved in a deadly road accident.
Five people were last Wednesday killed following an accident involving a cement truck and President Kabila's motorcade, about 220km south of Kinshasa.
The three soldiers and two civilians died as President Kabila was returning to the capital.
A presidential spokesman confirmed the Kinshasa accident, saying it was caused by "heavy rain", although early reports suggested speed was a factor.
The accident in Zambia, local media reported, involved a head-on collision between a Toyota Dyna and one of President Kabila's escort cars.
"The accident happened when the Mazda which was being driven by an (police) inspector who was part of the presidential escort duties collided with a Toyota Dyna which failed to give way," Zambia police spokesperson Esther Katongo said in a statement.
"The government vehicle spinned and hit a police officer at his point of duty on route lining. The officer sustained injuries on his left leg."
The driver of the Toyota Dyna died after being taken to the hospital due to the injuries he sustained, Zambian media reported.
Police did not say if President Kabila's vehicle in which he was with Zambia's Foreign minister Joe Malanji was affected.
President Kabila was in Zambia for what he termed "enforcing the existing bilateral relations between the two neighbouring states".
Government sources said President Kabila was in Zambia to discuss the "matter of controversial elections in the DR Congo and refugees who have been trekking to Zambia following instability in bordering towns."
President Edgar Lungu pledged to mitigate to sort out the political impasse in the DRC.
President Kabila visited that country's Presidential burial site, held talks with his counterpart and later met with first president Kenneth Kaunda.
Opposition political parties have been demanding that Kabila step down and call elections "as soon as possible".